National Fish and Wildlife Foundation Overview
Since its creation by Congress in 1984, the National Fish and Wildlife Foundation (NFWF) has become one of the world's largest conservation grant-makers. The foundation works with both the public and private sectors to protect and restore the nation's fish, wildlife, plants and habitats.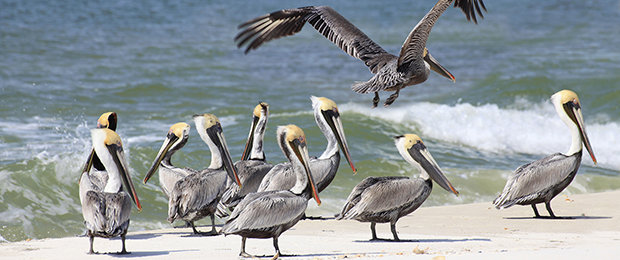 NFWF supports conservation efforts in all 50 states and U.S. territories. The projects – more than 15,000 since its founding – are rigorously evaluated and awarded to some of the nation's largest environmental organizations, as well as some of the smallest. NFWF neither advocates nor litigates. Instead, NFWF focuses on bringing all parties to the table, getting results, and building a better future for the world. Financial commitments to the conservation mission since its founding now top $3.5 billion. NFWF is an independent 501(c)(3) nonprofit organization which is governed by a 30-member Board of Directors approved by the Secretary of the Interior.
Gulf Environmental Benefit Fund
NFWF's Gulf Environmental Benefit Fund was established in early 2013 as a result of two plea agreements resolving the criminal cases against BP and Transocean after the 2010 Deepwater Horizon oil spill. The agreements direct a total of $2.544 billion to NFWF over a five-year period. Between 2013 and 2018, NFWF's Gulf Environmental Benefit Fund will receive a total of $1.272 billion for barrier island and river diversion projects in Louisiana, $356 million each for natural resource projects in Alabama, Florida, and Mississippi, and $203 million for similar projects in Texas.
The funds are to be used to support projects that remedy harm to natural resources (habitats, species) where there has been injury to, or destruction of, loss of, or loss of use of those resources resulting from the oil spill. Projects are expected to occur within reasonable proximity to where the impacts occurred, as appropriate.
Consistent with the terms of the plea agreements, funding priorities include, but are not limited to, projects that contribute significantly to the following natural resource outcomes:
Restore and maintain the ecological functions of landscape-scale coastal habitats, including barrier islands, beaches and coastal marshes, and ensure their viability and resilience against existing and future threats;
Restore and maintain the ecological integrity of priority coastal bays and estuaries; and
Replenish and protect living resources including oysters, red snapper and other reef fish, Gulf Coast bird populations, sea turtles and marine mammals.
Now in its third year, the Gulf Environmental Benefit Fund has supported 75 projects worth nearly $500 million. In making the awards, NFWF has worked closely with key state and federal resource agencies to select projects that remedy harm and eliminate or reduce the risk of future harm to Gulf Coast natural resources.