NFWF Settlement
In early 2013, a U.S. District Court approved two plea agreements resolving certain criminal cases against BP and Transocean which arose from the 2010 Deepwater Horizon explosion and oil spill. The agreements direct a total of $2.544 billion to the National Fish and Wildlife Foundation (NFWF) to fund projects benefiting the natural resources of the Gulf Coast that were impacted by the spill.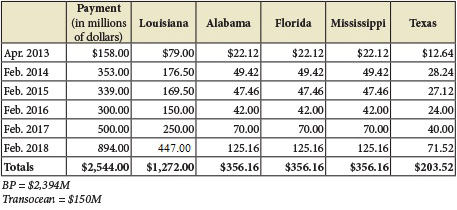 Between 2013 and 2018, NFWF's newly established Gulf Environmental Benefit Fund will receive a total of $1.272 billion for barrier island and river diversion projects in Louisiana, $356 million each for natural resource projects in Alabama, Florida, and Mississippi, and $203 million for similar projects in Texas.
Now in its third year, the Gulf Environmental Benefit Fund has supported 75 projects worth nearly $500 million. In making the awards, NFWF has worked closely with key state and federal resource agencies to select projects that remedy harm and eliminate or reduce the risk of future harm to Gulf Coast natural resources.
In accordance with the terms of the plea agreements, payments into the Fund will occur over a five-year period, with more than half the funding coming in years four and five. As payments are received, NFWF will allocate funds into segregated accounts by state in accordance with the formula established by the plea agreements. As funds become available, NFWF intends to obligate funds for projects to begin repairing damage to the Gulf Coast's natural resources and communities.