Resources for Mississippi Communities
There are a variety of important components to a local program for the prevention of illegal dumping. The components include the following:
Implementation of an Adequate Solid Waste System
Developing a proper solid waste management system with legitimate options for recycling and disposal is a community's first step towards preventing illegal dumping. Local governments are required by Mississippi Law to plan and implement an adequate solid waste management system. MDEQ works with local governments to develop comprehensive solid waste management plans that ensure the adequacy of local systems for managing solid wastes.
MDEQ provides grant support and technical support to local governments to help develop these solid waste plans and systems that provide local residents and businesses with options for proper management and disposal of solid wastes. Having accessible options for recycling and disposal of solid wastes locally is important if a community is going to prevent illegal dumping from occurring.
Establishing Local Enforcement Programs & Personnel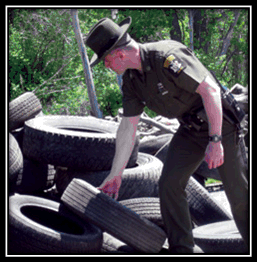 MDEQ encourages local governments to establish or designate a local solid waste enforcement officer or agency. Numerous local governments throughout the state have designated local enforcement personnel.
These enforcement officers should have knowledge of state solid waste laws and regulations and of the local solid waste system and local options for waste management. The MDEQ Solid Waste Assistance Grants (SWAG) program can help fund salary support for local solid waste enforcement officers who are employed by local agencies or departments such as local sheriff's offices, code enforcement offices, public works departments, road departments and other local agencies. The following links are provided to assist local Enforcement Personnel in understanding state laws and regulations and in developing an adequate local prevention and enforcement program:
SWEO 2013 Training Seminar Resources