Executive Director
Chris Wells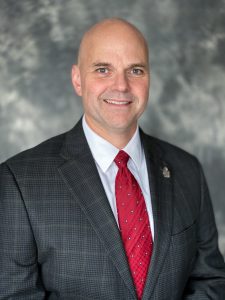 Governor Tate Reeves appointed Chris Wells to serve as Executive Director of the Mississippi Department of Environmental Quality (MDEQ) in October of 2020.  Chris began his career with the agency in November 2007, providing legal support for the Environmental Compliance and Enforcement Division until October of 2014, when former Executive Director Gary Rikard appointed him to serve as Chief of Staff.  Since June of 2017, he also served as Acting Director of the Office of Restoration.
MDEQ is responsible for protecting the state's environment and administers most of the U. S. EPA programs, including air, water and waste management activities; monitors, models, and regulates water use; and functions as the state geological survey.  As Executive Director, he manages a staff of about 400 people and a budget of more than $250 million.
Wells also serves as Mississippi's Trustee for the Natural Resource Damage Assessment under the Oil Pollution Act and represents the state on the Gulf Coast Ecosystem Restoration Council which was formed by the RESTORE Act.
Chris earned a Chemical Engineering degree from Mississippi State University in 1996, and is a registered professional engineer.  He graduated from the Mississippi College School of Law in 1999, served as a Law Clerk to U.S. District Court Judge William H. Barbour, Jr., and practiced law with the firm of Scanlon, Sessums, Parker & Dallas from 2000 to 2007.  He also taught as an Adjunct Professor at the Mississippi College School of Law from 2010 to 2019.
Chris is a native of Brandon and still lives in that area along with his wife Catherine and their children Megan and Nolan.