Announcements
LiDAR Coverage

Mississippi now has 100% complete LiDAR coverage.  LiDAR elevation data is one of the more significant digital layers included in the Mississippi Digital Earth Model (MDEM).   The LiDAR data is available for download at http://www.maris.state.ms.us.
Publications
Most of our publications (including out of print items) have been scanned and are now available for download.  Take a look in our Publications and Map Sales.
---
Saturday, March 24, 2018 ………. 9 AM to 5 PM
Join experts in the field to learn about the geology and minerals found at some of the outstanding mineral localities within the Southeast.
Prepaid reservations are required by March 16, 2018. Cost includes all presentations, breakfast and lunch, as well as Museum admission
---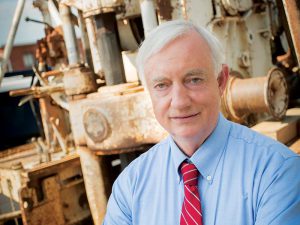 David T. Dockery III,  Mississippi State Geologist
Dr. David T. Dockery III has been named State Geologist of Mississippi and Director of the Mississippi Office of Geology. He is well known for his accomplishments and influence, including his role as author of "The Geology of Mississippi," with co-author David Thompson. David replaces Michael Bograd.