Diesel Emission Reduction Grant Program
Beginning in 2009, the Air Division of the Mississippi Department of Environmental Quality began the Mississippi Diesel Emissions Reduction Program. The goal of this funding opportunity is to implement cost-effective and innovative projects to reduce diesel emissions in the state. Reducing diesel emissions is currently one of the most important air quality challenges in Mississippi. Although more stringent emission standards are taking effect for new heavy-duty on road and non-road engines, the diesel engines currently in use will continue to emit large amounts of nitrogen oxides and particulate matter for years to come. These pollutants affect many areas in the state and its ability to comply with National Ambient Air Quality Standards, especially with ozone, but most importantly they could contribute to public health problems. Since 2014, MDEQ has focused this program on assisting school districts in the state with early replacements of their school buses. Interested school districts can contact Stephen Barnett at (601) 961-5276 for additional information and the application package.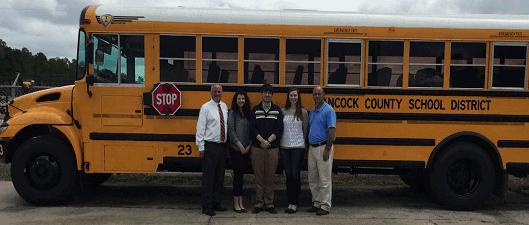 MDEQ Air Division staff with Hancock County School District officials verifying the decommissioning of an old bus and posed with a new one purchased with help from an MDEQ Diesel School Bus Replacement Program Grant.