Commission On Environmental Quality
The Commission on Environmental Quality is empowered to formulate Department policy, enforce rules and regulations, receive funding, conduct studies for using the State's resources, and discharge duties, responsibilities and powers as necessary.
Seven members, serving staggered, seven-year terms; appointed by the Governor, one from each 1978 Congressional District and two at large. Advice and consent of the Senate required.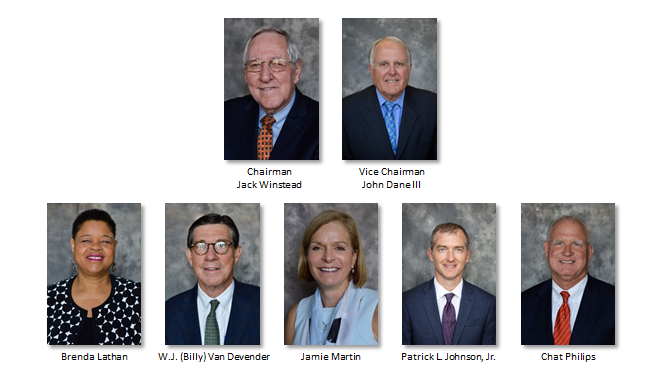 Commissioners:
Chairman: Jack Winstead (Third District)
Vice Chairman: John Dane III (Fifth District)
Brenda Lathan: (Second District)
W.J. (Billy) Van Devender: (At Large)
Jamie P. Martin: (Fourth District)
Patrick L. Johnson, Jr. (First District)
Chat Phillips: (At Large)
Mississippi Commission on Environmental Quality Orders Issued
To access orders issued after January 2011, please click here.
Meeting Date, Time, and Locations
The Commission routinely meets at 9 am on the fourth Thursday of each month.
March 22, 2018 Mississippi Commission on Environmental Quality Cancellation Notice
To verify meeting dates and locations,
call (601) 961-5001.
Mississippi Department of Environmental Quality
515 E. Amite Street
Jackson, MS 39201